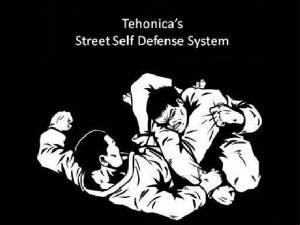 We mix boxing, ground grappling, close quarters, joint manipulation to be effective for street survival...
Quick and effective escapes and releases from non life threatening "annoyance" attacks.
The art of using good verbal and spatial skills to prevent many assaults from becoming physical in the first place.
Defending against the 'sucker punch'! One of the most common attacks by muggers, brawlers and street criminals.
How to execute the "stop hit". This one stops them in their tracks!
Strategic Targeting techniques that will drop a man of any size.
Street defenses against a 'kicker'.
Triple your reaction time by watching certain movements.
Instant disabling techniques to drop even the biggest of attackers.
Defenses from chokes, headlocks and strangles.
Devastating counter attacks!
Defenses from on your back against punches and chokes.
Releases from collar grabs, full nelsons and arm locks.
Defending against clubs, sticks and bats.
Protecting yourself from the most common of all mugging attacks.
Pre-empting your attack at the right time!
"Under Construction "